A Treatment Center dedicated to your Health and Well-being, accepting client's from all over Maryland.
Located in Frederick County, Maryland.
The Orenda Center of Wellness
Our Promise to you.
At The Orenda Center of Wellness, we are dedicated and promise to provide Person-Centered Quality Treatment.
Substance Abuse Treatment
Women's In-Patient (Level 3.3)
Relapse Prevention Program (RPP)
Intensive Outpatient Program (IOP)
Partial Hospitalization Program (PHP)
Alcohol and Drug Assessments
Urinalysis
DUI Education
Medication-Assisted Treatment and Buprenorphine
Case Management

Mental Health Treatment
Psychiatric Evaluation
Psychiatric Medication Management
Individual Psychotherapy
Group Psychotherapy
Family Psychotherapy

Orenda Center of Wellness
Equine Facilitated Psychotherapy
Orenda is excited to offer Equine-Facilitated Psychotherapy in the coming months. Our horses, Adam and Macho, are preparing for their roles. Please contact Orenda to obtain more information.
Mental Health Treatment
We will provide person-centered clinical outpatient services for mental health with a licensed clinician.
Substance Abuse Treatment
We will offer substance abuse treatment at varying levels of care including IOP and Partial Hospitalization.
In-Patient Female Treatment
We are a level 3.3 substance abuse In-Patient Treatment serving females.
Transitional & Extended Care
We will provide supportive case management to all clients and those needing assistance with resources.
Out-Patient Treatment
We will offer a wide range of out-patient counseling, supportive groups, and psycho-educational groups.
and you don't have to travel halfway around the world to get it. We can help.
For Self-Referral or Provider Referral; Call us at (240) 831-4873 or Email us at info@theorendacenter.com
17645 Harbaugh Valley Road
Sabillasville, Maryland 21780

info@theorendacenter.com​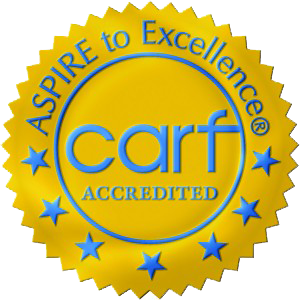 CARF accreditation signals a service provider's commitment to continually improving services, encouraging feedback, and serving the community.